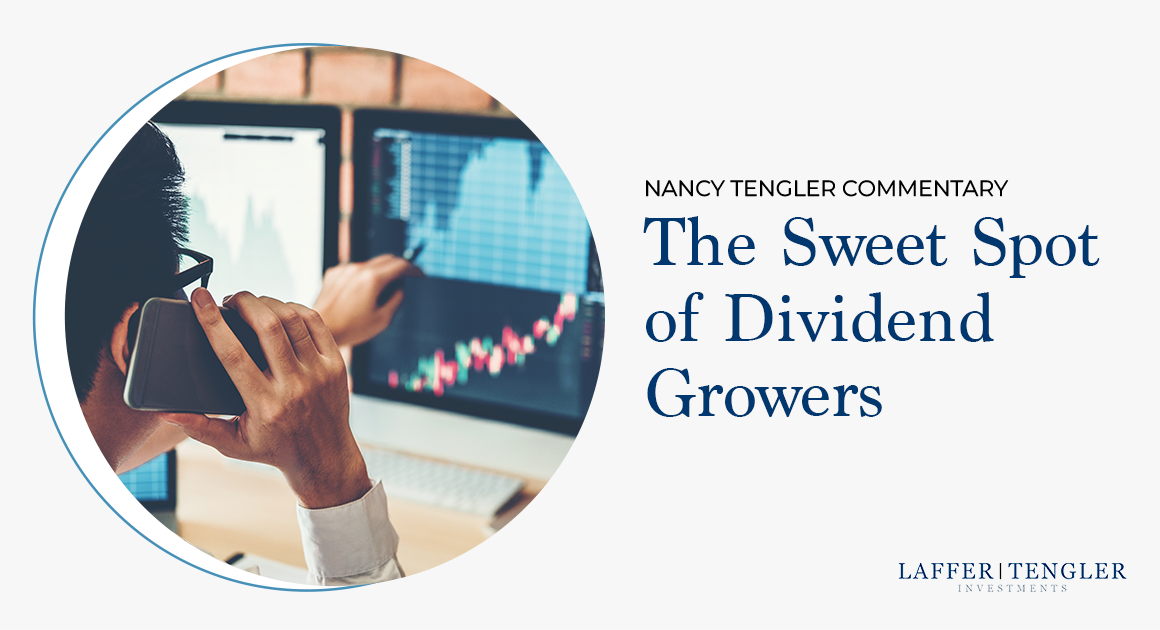 Commentary: The Sweet Spot of Dividend Growers
By Nancy Tengler, CEO & Chief Investment Officer
I have been managing dividend growth strategies since the mid-1980s. Income investing is not a fad at Laffer Tengler. Our 5-star Morningstar rated Equity Income Strategy employs the same valuation methodology, relative dividend yield (RDY), I employed for my 35+ years in the business.
RDY is unique because the relative nature of the RDY metric allows us to invest in fallen-angel growth companies who are committed to growing the dividend as a portion of long-term sustainable earnings growth. The beauty is we get paid to wait for the fundamentals to improve in these companies with the potential to grow faster than the average value stock. In order to avoid owning what we call terminally cheap stocks or value traps, we utilize our proprietary 12 Fundamental Factors research model—a firm-wide discipline.
I recently made a presentation entitled "Inflation, Recession and the Midterms" (please reach out to lmitchell@laffertengler.com if you would like to see the presentation deck) where I discussed among other things, the relative attractiveness of dividend strategies. The chart below from Wellington Management and Hartford Funds reveals the second quintile (where we shop for Equity Income) as the sweet spot.
This is the right time to own dividend growers. They not only provide us with information around the stock's relative attractiveness (RDY) but they provide a growing income stream (a hedge against inflation) and protection in a declining market.
Bear markets are no fun. But we do know that every bear market is eventually followed by a bull market and the trick is not to let the market volatility scare you out of stocks. I am resurrecting the chart below from our friends at Strategas to demonstrate the importance of staying invested. Even when it hurts.
If you have any questions regarding our proprietary strategies, please reach out to Fern Hailey, Senior Managing Director (fhailey@laffertengler.com).
Existing Homes Sold and Affordability: Wow!
U.S. existing home sales (white) declined 22.3% last quarter after peaking in June 2021. Affordability for first-time homebuyers plunged 30.1% as the 30-year mortgage (fixed-rate) hit 6.7%, more than double year-ago levels.
---
General Disclosures
The comments expressed represent the personal views of Laffer Tengler's investment professionals based on their broad investment knowledge, experience, research, and analysis. The comments are not specific advice tailored to the specific circumstances of a particular individual. The comments are general and for informational purposes only, based on information and conditions prevalent at the time of publication. Viewers should not consider or place specific reliance on the content presented as comprehensive advice nor as an offer or solicitation to buy and/or sell securities. Laffer Tengler will not provide notice of any change in its opinions or the information contained in this piece. Individuals are strongly encouraged to seek professional advice specific to their market, economic, regulatory, political conditions, and obligation change.
The information contained in this piece is for informational purposes only and should not be considered an individualized recommendation or personalized investment advice. Do not use this information solely when making investment decisions nor select an asset class or investment product on performance alone. Consider all relevant information, including your existing portfolio, investment objectives, risk tolerance, liquidity needs, and investment time horizon. There can be no guarantee that any listed objective is achievable nor assurance that any specific investment will be profitable. Laffer Tengler does not undertake to advise you of any change in its opinions or the information contained in this piece. Different types of investments involve varying degrees of risk, and there is no guarantee that a portfolio will achieve its investment objective. Always consult a financial, tax, and/or legal professional regarding your specific situation. Past performance is no indication or guarantee of future results.
Laffer Tengler does not control and has not independently verified data provided by third parties, including the data, charts, and graphs presented in this piece. While we believe the information presented is reliable, Laffer Tengler makes no representation or warranty concerning the accuracy or completeness of any data presented herein.
Laffer Tengler Investments, Inc. is a Registered Investment Advisor. Registration with the SEC or a state securities authority does not imply a certain level of skill or training. Laffer Tengler's advisory fee and risks are fully detailed in Part 2 of its Form ADV, available on request.
Morningstar
This rating was awarded by Morningstar as of June 30th, 2022, based on information from inception to June 30th, 2022. Laffer Tengler Investments, Inc. does not compensate Morningstar to be provided a rating; however, we do pay Morningstar to obtain other products and services available from them or their affiliates. Information about the Morningstar Rating system, including the calculation methodology used to assign "star" rankings can be found at Morningstar Rating Methodology.