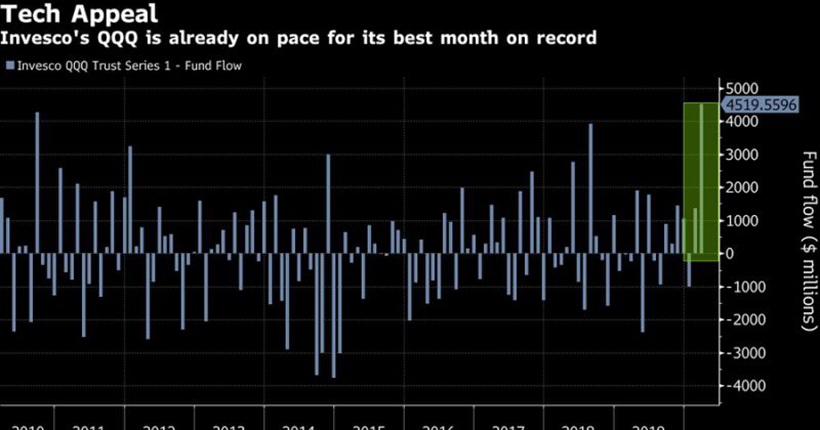 Tech megacaps are luring equity investors back into the stock market at a pace not seen in almost two decades on speculation they have a cash bulwark strong enough to withstand the looming recession.
An exchange-traded fund that tracks the Nasdaq 100 Index, the Invesco Trust Series 1 has taken in $4.5 billion so far in March, according to data compiled by Bloomberg. That's the most since 2001. The $78 billion fund rose as much as 2.8% Friday, though it remained lower by more than 12% this month.
Amid the fastest sell-off in history, bets on the FAANG stocks — Facebook Inc., Amazon.com Inc., Apple Inc., Netflix Inc. and Google parent Alphabet Inc. — have resumed. The quintet has among the strongest balance sheets in corporate America, an attribute that has demarcated the sell-off's relative winners from losers. Investors also anticipate the cohort will be able to benefit as consumers turn to its services for work or entertainment during heightened demands for people to stay at home.
The tech giants are also coveted because of their liquidity, growth prospects and outsize influence on the broader market. The five made up a record 30% of the Nasdaq 100 by weighting on Monday. Add Microsoft Corp. and the share tops 40%.
Nancy Tengler, chief investment officer of Laffer Tengler Investments, said she's been buying tech stocks like Google and Facebook as she increasingly sees the market nearing its bottom.
"I'm cautiously optimistic that a few months from now we will see economic activity resume," she said. "That's why we're starting to buy now. You don't want to buy after the good news is out. We're picking away."
Short interest as a percentage of shares outstanding on — a rough indicator of bearish bets on the ETF — is currently 3.5%, according to data from IHS Markit Ltd. That's down from a two-year high of 5.5% on March 2.
"I think tech stocks are a good place to dip your toes back into the water, that makes total sense to me," said Bob Phillips, managing member of Spectrum Management Group. "It's their ability to access cash at very favorable borrowing levels and their growth prospects because our economy is going to grow again, and tech will be key component of where that growth will come from."