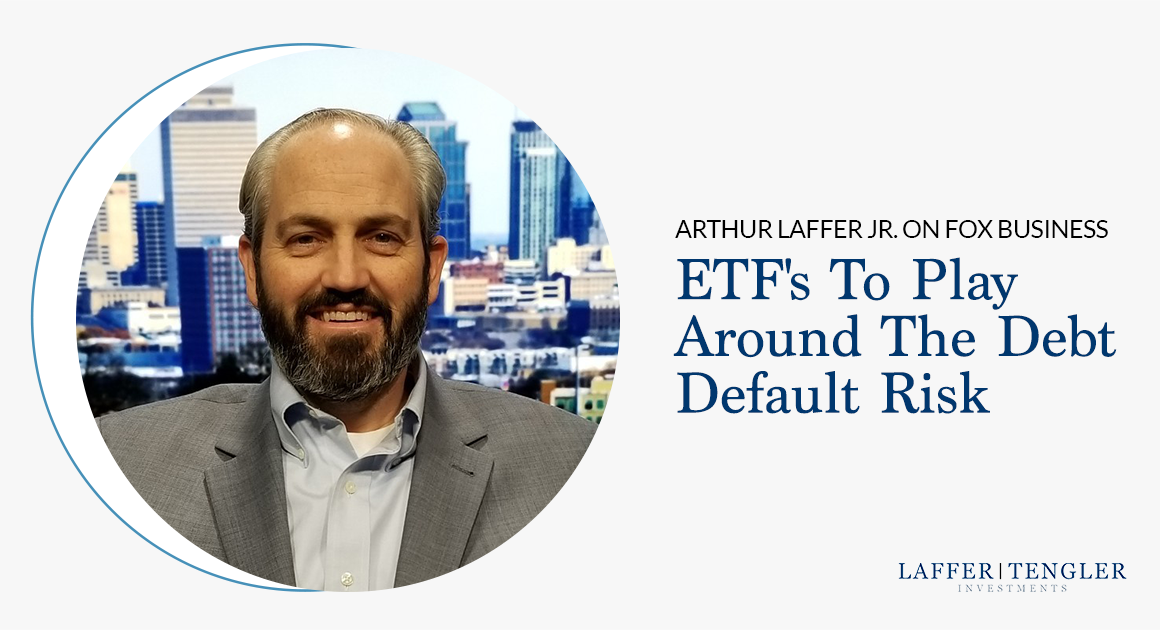 By: Erica Lamberg, Originally published in Fox Business
An ETF's ability to improve diversification is key in a volatile market: Financial expert
The country is awaiting updates from the White House and Congress on news of the debt ceiling, and with a potential default possible, exchange-traded funds, or ETFs, could be an investment choice to consider.
ETFs are baskets of securities traded on exchanges that may offer investors greater diversification, less risk and fewer fees.
Why are ETFs smart investment choices during uncertain market conditions?
David Nicholas, the founder of Nicholas Wealth Management, says diversification is key.
"In an economic slowdown, single stocks can carry outsized risk," Nicholas tells FOX Business. "The benefit of an ETF is that investors can have broad diversification across multiple sectors and asset classes. This allows investors to stay invested but spread out their risk."
With no deal and the deadline looming, and risk is already on, what ETFs would you suggest to choose?
Roxanna Islam, associate director of research at VettaFi, says investors should focus on their long-term investments rather than panic sell during uncertain or volatile markets.
"Broad U.S. market ETFs like the Vanguard S&P 500 Index Fund tend to be relatively stable in the long-term despite short-term market events," Islam tells FOX Business.
Also, she says, investors are expecting volatility across both debt and equity markets, so many investors are becoming more defensive and looking for safety in large-cap quality or low volatility.
"These include ETFs like the Invesco S&P 500 Low Volatility ETF or the iShares MSCI USA Quality Factor ETF. Investors may also consider commodity ETFs such as the SPDR Gold Shares since commodities like gold tend to be less sensitive to market movements," Islam says.
Additionally, Arthur Laffer Jr., president of Laffer Tengler Investments, says that if you think the debt negotiations are going to either last a long time or actually result in a default, then you should expect U.S. Treasury yields to rise in order to price in increased default premium.
"If that is the case, you either want to be very short maturity like iShares Treasury Floating Rate Bond ETF or VanEck IG Floating Rate ETF, so as to limit exposure to rates rising or use an ETF that strictly benefits from rates rising like ProShares Short 20+ Year Treasury or ProShares UltraShort 20+ Year Treasury 2x, which both benefit from interest rates rising for long-dated Treasurys. These last two ETFs utilize shorting and also leverage," says Laffer.
How do ETFs reduce risk and complement an existing portfolio?
The primary way to reduce risk is through diversification, says Nicholas. "The second way is to own an ETF that is actively managed," he says. "The value of active management can really shine when investing in a bond ETF."
Also, he says, for many investors trying to buy bonds it can be somewhat of a complicated process.
"You have to be able to understand the par value, whether it is callable, what the yield is and what the maturity is," Nicholas tells FOX Business. "Investors who purchase a bond ETF for example, don't need the expertise of selecting the appropriate bonds because it is the bond fund manager's responsibility to make those decisions."
How do ETFs mitigate risk, especially in the debt default scenario?
ETFs can help investors maintain their long-term investment goals and avoid making rash decisions in the case of a debt default scenario or any other short-term market event, says Islam.
"Psychologically, it can be easier for investors to hold professionally managed ETFs rather than attempting to time the market with individual securities and potentially risk locking in losses," she says.
As published on foxbusiness.com
---
Disclosure:
The comments expressed represent the personal views of Laffer Tengler's investment professionals based on their broad investment knowledge, experience, research, and analysis. The comments are not specific advice tailored to the specific circumstances of a particular individual. The comments are general and for informational purposes only, based on information and conditions prevalent at the time of publication. The comments are as of the date of publication and are subject to change without notice due to changes in the market or economic conditions that may not necessarily come to pass. Forward-looking statements cannot be guaranteed. This is not a recommendation to buy or sell a particular security, nor is this financial advice or an offer to sell any product. Viewers should not consider or place specific reliance on the content presented as comprehensive advice nor as an offer or solicitation to buy or sell securities. Laffer Tengler will not provide notice of any change in its opinions or the information contained in this appearance. Individuals are strongly encouraged to seek professional advice specific to their market, economic, regulatory, political conditions, and obligation change.
The information contained in this appearance is for informational purposes only and should not be considered an individualized recommendation or personalized investment advice. Do not use this information solely when making investment decisions nor select an asset class or investment product on performance alone. Consider all relevant information, including your existing portfolio, investment objectives, risk tolerance, liquidity needs, and investment time horizon. There can be no guarantee that any listed objective is achievable nor assurance that any specific investment will be profitable. Laffer Tengler does not undertake to advise you of any change in its opinions or the information contained in this appearance. Different types of investments involve varying degrees of risk, and there is no guarantee that a portfolio will achieve its investment objective. Always consult a financial, tax, and/or legal professional regarding your specific situation. Past performance is no indication or guarantee of future results.
Laffer Tengler does not control and has not independently verified data provided by third parties, including the data, charts, and graphs presented in this appearance. While we believe the information presented is reliable, Laffer Tengler makes no representation or warranty concerning the accuracy or completeness of any data presented herein.