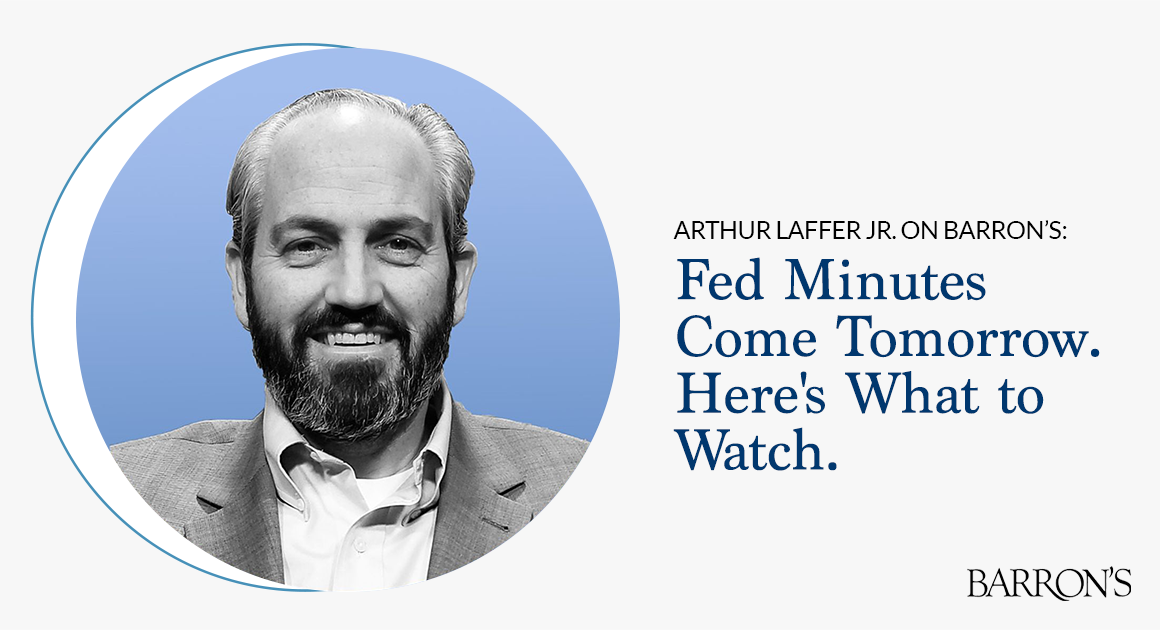 Arthur Laffer Jr. for Barron's: Fed Minutes Come Tomorrow. Here's What to Watch.
By: Angela Palumbo, Originally published in Barron's
Traders will be looking for clues on the future of monetary policy when minutes are released Wednesday from the Federal Reserve's May meeting.
Inflation has soared to record highs over the last two years, and the Fed has raised interest rates ten times to try and curb these historical prices. The question on everyone's mind: will the Fed raise interest rates again?
As of right now, most traders think the Fed will pause its current path of monetary policy. According to the CME FedWatch Tool, 73% of traders are anticipating the Fed will hold rates steady when it meets in June.
Minneapolis Fed President Neel Kashkari recognized in an interview with The Wall Street Journal on Sunday that the Fed isn't done hiking rates, but would be open to a pause "to get more information."
Fed Chairman Jerome Powell also recently made remarks that have led people to anticipate a pause. He said last week that developments in the U.S. banking sector "are contributing to tighter credit conditions and are likely to weigh on economic growth, hiring and inflation."
"As a result, our policy rate may not need to rise as much as it would have otherwise to achieve our goals," Powell said.
However, a pause in June is far from certain, and the outlook for future meetings is even less clear. St. Louis Fed President James Bullard said Monday that he anticipates two more interest rate hikes this year.
"The labor market is still very strong and unemployment remains at historic lows. As of right now we do not expect the Fed to start reversing rates until at least the 4th quarter or beyond,"
Arthur Laffer Jr., president of Laffer Tengler Investments, wrote.
---
Disclosure:
The comments expressed represent the personal views of Laffer Tengler's investment professionals based on their broad investment knowledge, experience, research, and analysis. The comments are not specific advice tailored to the specific circumstances of a particular individual. The comments are general and for informational purposes only, based on information and conditions prevalent at the time of publication. The comments are as of the date of publication and are subject to change without notice due to changes in the market or economic conditions that may not necessarily come to pass. Forward-looking statements cannot be guaranteed. This is not a recommendation to buy or sell a particular security, nor is this financial advice or an offer to sell any product. Viewers should not consider or place specific reliance on the content presented as comprehensive advice nor as an offer or solicitation to buy or sell securities. Laffer Tengler will not provide notice of any change in its opinions or the information contained in this appearance. Individuals are strongly encouraged to seek professional advice specific to their market, economic, regulatory, political conditions, and obligation change.
The information contained in this appearance is for informational purposes only and should not be considered an individualized recommendation or personalized investment advice. Do not use this information solely when making investment decisions nor select an asset class or investment product on performance alone. Consider all relevant information, including your existing portfolio, investment objectives, risk tolerance, liquidity needs, and investment time horizon. There can be no guarantee that any listed objective is achievable nor assurance that any specific investment will be profitable. Laffer Tengler does not undertake to advise you of any change in its opinions or the information contained in this appearance. Different types of investments involve varying degrees of risk, and there is no guarantee that a portfolio will achieve its investment objective. Always consult a financial, tax, and/or legal professional regarding your specific situation. Past performance is no indication or guarantee of future results.
Laffer Tengler does not control and has not independently verified data provided by third parties, including the data, charts, and graphs presented in this appearance. While we believe the information presented is reliable, Laffer Tengler makes no representation or warranty concerning the accuracy or completeness of any data presented herein.