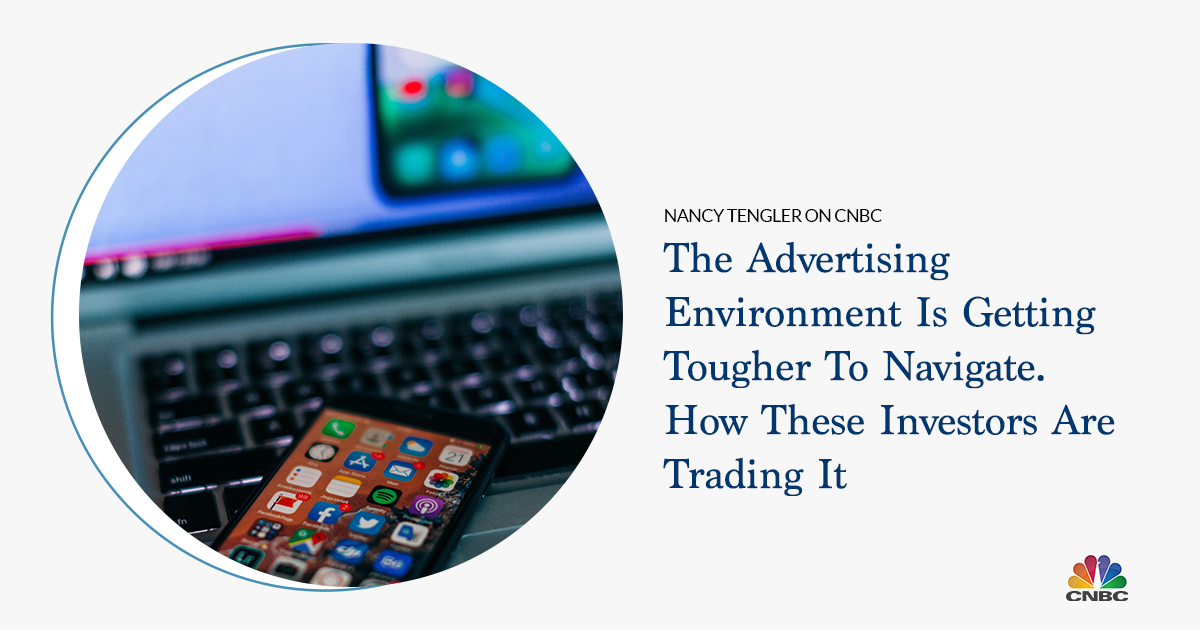 Tengler on CNBC Pro: The Advertising Environment is Getting Tougher To Navigate. How These Investors Are Trading It
By: Samantha Subin, Originally Published in CNBC.com
A strong advertising market may be starting to feel the pressure from geopolitical risks erupting aboard and a higher-for-longer interest rate environment.
The concerns around advertising are typical for an industry often tied to consumer spending, and one that's suffered from Apple iOS privacy changes that reduced the ability to target specific audiences. But comments from some major technology players last week led to increasing questions that some investors have struggled to shake off.
Meta Platforms Chief Financial Officer Susan Li warned that the volatile geopolitical landscape, including war between Israel and Hamas, could create some advertising uncertainty into the new year. Snap also said it saw some pauses in "brand-oriented advertising campaigns" at the start of the Mideast war.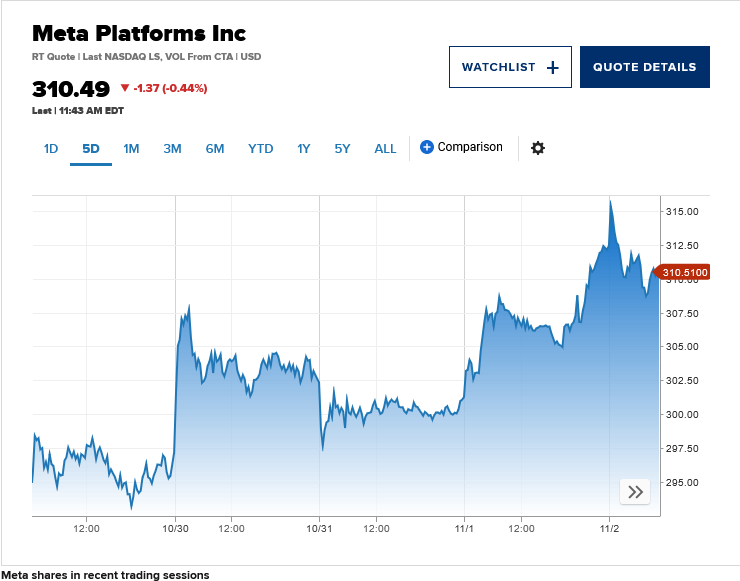 That concern added to declines in other ad-focused technology names, with Alphabet dropping nearly 10%. Snap and Meta finished last week down 1.5% and 3.9%, while ad-tech players such as the Trade Desk slumped about 10%.
To be sure, some analysts and investors say fears of a hit to advertising may be overblown – especially if the Mideast crisis doesn't escalate. And companies are still showing signs of advertising strength. Ad revenue rose 9.5% at Alphabet from a year ago, and the Google parent saw even greater gains within its YouTube business. Snap reported revenue growth of 5%, while revenue at Meta jumped more than 23%.
Alphabet's chief business officer also hinted at the ways artificial intelligence integration is helping advertisers reach new audiences at low prices.
But if advertising shows signs of stability, the murky geopolitical backdrop — and unclear interest rate environment from the Federal Reserve — is enough to keep some investors on the sidelines in the near term.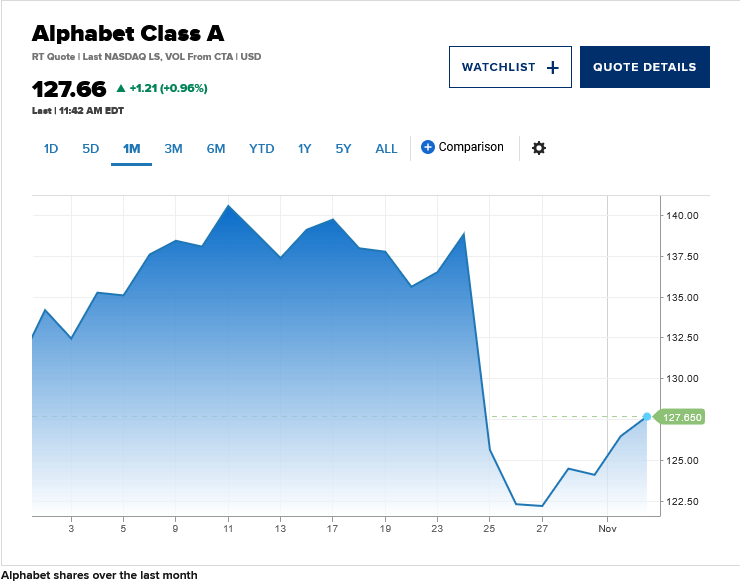 "The setup is that investors aren't buying the strength in the ad market," said Deepwater Asset Management's Gene Munster. "There is reason for concern."
Those fears may be priced in for investors such as Munster with a longer-term time horizon, but sufficient enough to contribute to some shorter term volatility and potential softness if consumer spending eases.
A ramp up in political advertising in 2024 ahead of the presidential and Congressional elections could boost advertising spending in the new year for companies such as Alphabet, said Laffer Tengler Investments' CEO Nancy Tengler. However, at its current valuation, Alphabet looks too expensive for an advertising company. Instead, Tengler favors companies such as Amazon and Microsoft, which offer some, but less concentrated, exposure to advertising.
Tengler, whose firm owns some shares of Alphabet, wants more clarity from management beyond advertising to consider building the position further. That includes more insight into the recent warnings of a cloud slowdown and Alphabet's generative artificial intelligence plans, she said. At present, Tengler favors exposure to cybersecurity companies and those with resilient earnings in a slowdown rather than communication services.
Technology investor Paul Meeks is also shying away from the most popular advertising players — and big technology as a whole — until he sees a better setup for interest rates. The macro pressures and potential extension of the war in Israel, coupled with the higher-for-longer rate environment, should fuel more volatility and choppy trading into year end, he added.

"That's a pretty powerful one-two punch with the higher-for-longer thesis with rates in the States and now you got yet another geopolitical issue," Meeks said, noting that technology exposure is likely greater in Israel than Ukraine.
But any pockets of weakness could offer an opportunity for longer-term investors to step in, noted Roth MKM's Rohit Kulkarni. One silver lining for big tech in a slowing ad market is that advertisers tend to first cut spending to smaller players.
"If the advertising pie is not growing at a rapid rate, stops growing, or even starts to shrink, larger companies benefit, and their share of wallet grows," Kulkarni explained. "Once we are out of this environment, the smaller companies start to benefit."
— CNBC's Michael Bloom contributed reporting
See the original article published on CNBC.com
---
Disclosure: Laffer Tengler Investments, Inc. ("Laffer Tengler") is an investment adviser registered with the U.S. Securities and Exchange Commission ("SEC"). Registration with the SEC or state securities authority does not imply a certain level of skill or training. More information about Laffer Tengler can be found on the SEC's Investment Adviser Public Disclosure website at www.adviserinfo.sec.gov. The comments expressed represent the personal views of Laffer Tengler's investment professionals based on their broad investment knowledge, experience, research, and analysis. The comments are not specific advice tailored to the specific circumstances of a particular individual. The comments are general and for informational purposes only, based on information and conditions prevalent at the time of publication. The comments are as of the date of publication and are subject to change without notice due to changes in the market or economic conditions that may not necessarily come to pass. Forward-looking statements cannot be guaranteed. This is not a recommendation to buy or sell a particular security, nor is this financial advice or an offer to sell any product. Viewers should not consider or place specific reliance on the content presented as comprehensive advice nor as an offer or solicitation to buy or sell securities. Laffer Tengler will not provide notice of any change in its opinions or the information contained in this appearance. Individuals are strongly encouraged to seek professional advice specific to their market, economic, regulatory, political conditions, and obligation change.
The information contained in this appearance is for informational purposes only and should not be considered an individualized recommendation or personalized investment advice. Do not use this information solely when making investment decisions nor select an asset class or investment product on performance alone. Consider all relevant information, including your existing portfolio, investment objectives, risk tolerance, liquidity needs, and investment time horizon. There can be no guarantee that any listed objective is achievable nor assurance that any specific investment will be profitable. Laffer Tengler does not undertake to advise you of any change in its opinions or the information contained in this appearance. Different types of investments involve varying degrees of risk, and there is no guarantee that a portfolio will achieve its investment objective. Always consult a financial, tax, and/or legal professional regarding your specific situation. Past performance is no indication or guarantee of future results.
Laffer Tengler does not control and has not independently verified data provided by third parties, including the data, charts, and graphs presented in this appearance. While we believe the information presented is reliable, Laffer Tengler makes no representation or warranty concerning the accuracy or completeness of any data presented herein.