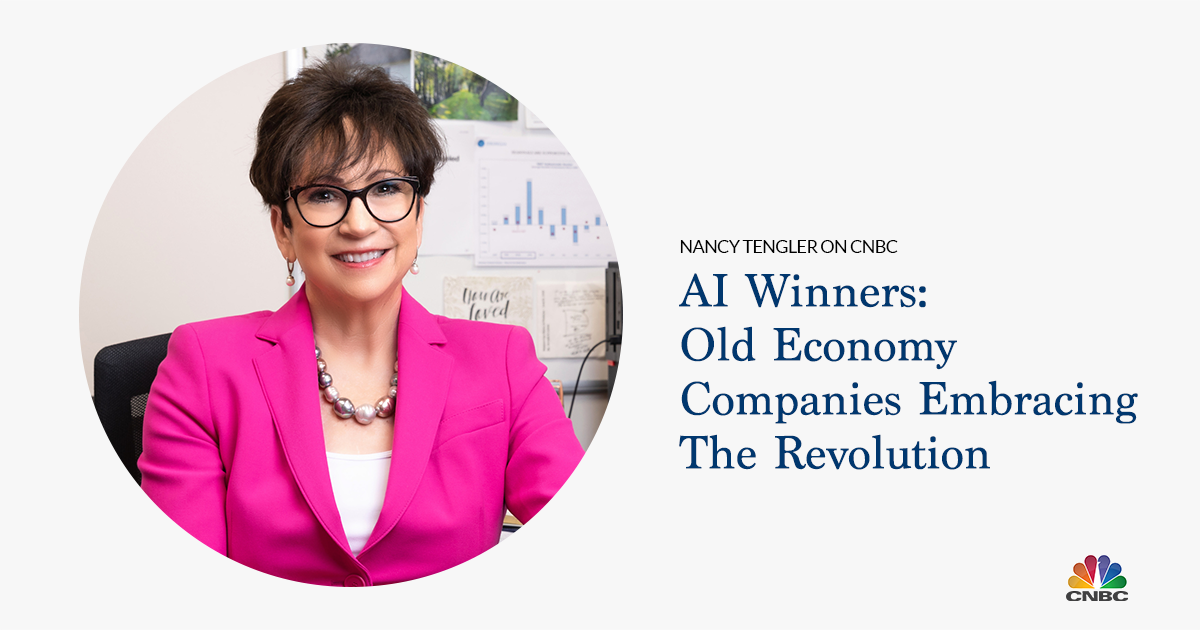 Tengler: "The Next AI Winners May Be Old Economy Companies Embracing the Revolution"
By: Sarah Min, Originally Published in CNBC.com
Investors looking for artificial intelligence beneficiaries outside the megacap tech companies can search in a less buzzy part of markets — old economy stocks.
Beyond this year's tech stock leaders such as Nvidia, "it is a broader base in technology" that is set to drive future returns, Nancy Tengler, chief investment officer at Laffer Tengler Investments, said in an interview earlier this month.
"And that's our investing theme: Old economy companies that are embracing the digital revolution and the suppliers of the digital, you know, generative AI, cloud and cybersecurity tools," Tengler added.
While megacap tech stocks have outperformed this year, helped by a surge of AI enthusiasm, the broader market has been left behind. In fact, while the S&P 500 is higher by 9% this year, the equal-weighted index is down by 4%.
To be sure, Tengler is still overweight the tech sector. But searching for more traditional companies embracing digitization could help investors identify less apparent beneficiaries of the AI boom, she said. Such companies are using digitization to boost productivity and streamline operations.
"What we really like are the companies that are embracing digitization in their business, and improving margins," said Tengler, who holds oversized positions in the consumer discretionary, industrials and technology sectors of the market.
One example she considers a buying opportunity is Emerson Electric. She said the engineering services provider, founded in 1890 as a maker of electric motors and fans, is improving industrial processes for its clients with its digital solutions.
In fact, KeyBanc analyst Ken Newman initiated coverage of Emerson this month with an overweight rating, saying the artificial intelligence offerings in the company's AspenTech software for workplace optimization is a key growth opportunity.
"We think EMR's transformation from a diversified Industrial conglomerate to a pure play automation company should unlock higher growth, margins, and earnings power over the course of the cycle," Newman wrote in an October 2 note.
CNBC Pro's analyst consensus tool shows Emerson has an average buy rating, with almost 24% upside to an average price target of roughly $110. The stock closed Wednesday at $88.83.
Another buying opportunity is Xylem, a water treatment company that is expanding its digital capabilities. Notably, Oppenheimer upgraded the stock this month to outperform from perform, saying Xylem's acquisition of Evoqua Water Technologies this year helps set it on a path to 50% digital revenue by 2025.
Another company Tengler likes is Carrier Global, a maker of heating, ventilation and air conditioning equipment.
Among consumer staples plays, Walmart has grown its ecommerce business and improved store productivity. McDonalds and Starbucks are two other names Tengler highlights as attractive.
She also likes Public Storage, which allows customers to open storage locker rentals online without dealing with a representative. "It's a lot more profitable," Tengler said.
— CNBC's Michael Bloom contributed to this report.
See the original article published on CNBC.com
---
Disclosure: Laffer Tengler Investments, Inc. ("Laffer Tengler") is an investment adviser registered with the U.S. Securities and Exchange Commission ("SEC"). Registration with the SEC or state securities authority does not imply a certain level of skill or training. More information about Laffer Tengler can be found on the SEC's Investment Adviser Public Disclosure website at www.adviserinfo.sec.gov. The comments expressed represent the personal views of Laffer Tengler's investment professionals based on their broad investment knowledge, experience, research, and analysis. The comments are not specific advice tailored to the specific circumstances of a particular individual. The comments are general and for informational purposes only, based on information and conditions prevalent at the time of publication. The comments are as of the date of publication and are subject to change without notice due to changes in the market or economic conditions that may not necessarily come to pass. Forward-looking statements cannot be guaranteed. This is not a recommendation to buy or sell a particular security, nor is this financial advice or an offer to sell any product. Viewers should not consider or place specific reliance on the content presented as comprehensive advice nor as an offer or solicitation to buy or sell securities. Laffer Tengler will not provide notice of any change in its opinions or the information contained in this appearance. Individuals are strongly encouraged to seek professional advice specific to their market, economic, regulatory, political conditions, and obligation change.
The information contained in this appearance is for informational purposes only and should not be considered an individualized recommendation or personalized investment advice. Do not use this information solely when making investment decisions nor select an asset class or investment product on performance alone. Consider all relevant information, including your existing portfolio, investment objectives, risk tolerance, liquidity needs, and investment time horizon. There can be no guarantee that any listed objective is achievable nor assurance that any specific investment will be profitable. Laffer Tengler does not undertake to advise you of any change in its opinions or the information contained in this appearance. Different types of investments involve varying degrees of risk, and there is no guarantee that a portfolio will achieve its investment objective. Always consult a financial, tax, and/or legal professional regarding your specific situation. Past performance is no indication or guarantee of future results.
Laffer Tengler does not control and has not independently verified data provided by third parties, including the data, charts, and graphs presented in this appearance. While we believe the information presented is reliable, Laffer Tengler makes no representation or warranty concerning the accuracy or completeness of any data presented herein.